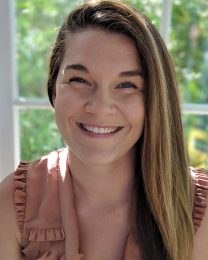 Crystal Savoy MS, RD, LDN is a licensed dietitian and a member of the clinical team at CNC360.
Crystal received a masters degree in nutrition from Simmons University where she also completed their graduate certificate program and internship specializing in the treatment of eating disorders.
She has previously worked at the Cambridge Eating Disorder Center and currently holds a position at The Renfrew Center for Eating Disorders as well as working in private practice via telehealth.
Crystal specializes in nutrition therapy for food and body attunement. She has received advanced training in PCOS, body image, intuitive eating, and digestive disorders. Using a therapeutic approach to nutrition counseling allows her to tailor treatment for each client based on their unique needs. Crystal's practice is infused with a weight inclusive philosophy and incorporates the principles of mindful self-compassion. She believes these are the therapeutic cornerstones that empower individuals to embody and sustain the behaviors that will invite a healthy relationship with mind, body, and soul.
Office Locations:
76 Junction Sq. Dr.
Concord, MA 01742
781-674-1189 ext. 10
33 Bedford St., Suite 20
Lexington, MA 02420
781-674-1189 ext. 10