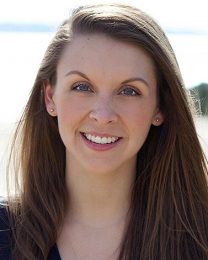 Kelsey is a licensed nutritionist, Registered Dietitian, and member of the clinical team at CNC360.
Kelsey graduated from the Coordinated Program in Dietetics at Framingham State University where she completed her Bachelor of Science degree as well as  her internship and credentialing requirements for the Academy of Nutrition and Dietetics. Following her licensure, she pursued her professional goal of working in the field of eating disorders. She spent several years as an eating disorder specialist on the inpatient service at Walden Behavioral Care where she received tremendous accolades from colleagues, supervisors, interns and most importantly, clients. 
Working as an inpatient clinician for an eating disorder service affirmed Kelsey's commitment and passion to continue her work with individuals struggling in their relationship to food and body.  Since her formal education, she has been adding new treatment modalities to her toolbox such as mindfulness and yoga. 
Kelsey also utilizes her experience in community education to promote the prevention of eating disorders and the concepts of Health At Every Size.
She has developed and presented educational programs on eating disorders to schools and parents. She also runs seasonal community nutrition groups to provide guidance on developing healthy self-care despite a culture steeped in negative messaging around body and food.
Kelsey is dedicated to the interdisciplinary collaboration necessary for optimal treatment of her clients. She enjoys working with many eating disorder specialists in the medical and mental health professions. Most recently, Kelsey has opened her own private practice in central Massachusetts in addition to her time at CNC360. She strives to guide people in understanding more about their relationship with food so that they can work toward nourishing all parts of their life.
Office Location:
76 Junction Sq. Dr.
Concord, MA 01742
781-674-1189, ext. 9
kelsey@cnc360.com