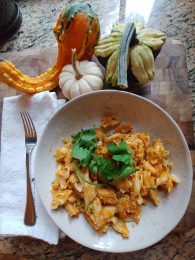 By: Crystal Savoy, MS, RD, LDN
Growing up my father was a chef but I never learned how to cook until I was in my 20s thanks to my husband and Food Network cooking shows.  I recently learned that both my father and I like to look at multiple recipes for ideas and then come up with our own, he said it's the "Italian way".  So that's very much how I come up with most of my recipes and what happened here.  Something about coming up with my own version and the act of cooking feels therapeutic.  I have adapted this recipe over time depending on the ingredients and cheese I have on hand.  You should know that I have a "cheese drawer" which is literally a bunch of different cheeses so every time I make mac&cheese it has a different blend. 
 I can't think of anything cozier for this time of year than a big ol' bowl of yummy mac & cheese.  This version uses pumpkin for a little fall flare and extra flavor.  I love pasta dishes because they're simple, versatile, and comforting.  They also make great leftovers (if there's any left, that is.).  Something about adding peas reminds me of childhood and I like the texture but you could omit them or use another veg in its place.
Now hop into something comfy and relax – I hope you enjoy this season and the cheesy goodness of this mac!  
Pumpkin Mac & Cheese
INGREDIENTS:
½ can pumpkin

1c frozen peas, defrosted 

16oz medium pasta shells  

2c shredded cheese (blend of your favorites, cheddar & gruyere work well) 

3c whole milk

4T butter

4T flour 
Spices:
2t paprika

½ t garlic powder

½ t onion powder

¼ t nutmeg

1t salt

½ t pepper
Topping: *
2 fresh sprigs of rosemary

2 fresh sprigs of oregano

2T butter

½c panko breadcrumbs

½c cheese (pecorino/parmigiano reggiano/asiago or similar cheese works well) 
*can use dry spices if you don't have fresh
DIRECTIONS:
Pre-heat the oven to 375 degrees. 
Add the butter to a non-stick pan on medium heat, once melted, add the flour, and whisk until it thickens, adding the spices while whisking, add the milk and continue to whisk until mixture thickens, add the cheese and whisk to mix everything together and cheese melts.  Whisk in the canned pumpkin and peas.  Meanwhile, boil the pasta according to package instructions, al dente, reserving ~1c pasta water. When the pasta is done cooking- drain, and stir into the cheese with the reserved water, mixing everything thoroughly, taste for seasoning and adjust as needed.  Transfer to a pyrex dish or other baking proof dish.  
Topping:
Melt the butter in the microwave for 30-50 seconds. Chop the leaves of rosemary and oregano and mix with the melted butter, cheese, and breadcrumbs in a bowl.  Spread the topping evenly over the mac&cheese. 
Bake for 25-30 minutes until the top is golden brown.  If you want the top crispier you can turn the broiler on but keep an eye on it so it doesn't burn!