Family-Inclusive Treatment and Family Support
Everyone at CNC360 strongly endorses the engagement of families and other significant relationships to help support the recovery of a loved one. For our younger clients, we carefully work with all members of the team (including parents) to discern what will be the optimal treatment approach. Here are a few of the clinical strategies that we may utilize: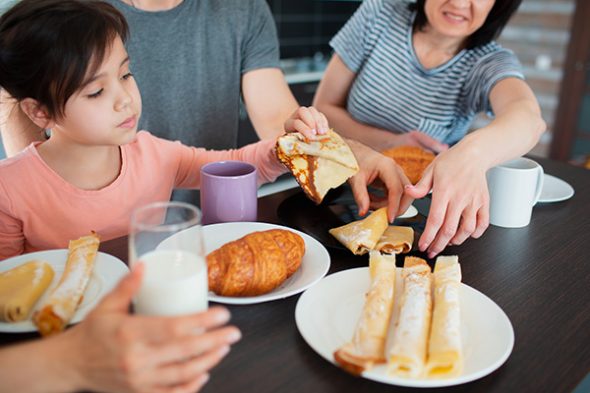 Emotion-Focused Family Therapy (EFFT):
Emotion‐focused family therapy is a transdiagnostic approach that affords parents and caregivers a significant role in their loved one's recovery from an eating disorder. The healing power of families is the foundation and essence of EFFT. This approach is focused on providing caregivers with the tools they need to support their loved one's mental health and well-being. Our role would be to empower the caregivers through mastering the tasks, skills, and feelings involved during the healing process.
For more information: https://www.mentalhealthfoundations.ca/efft
Responsive Feeding Techniques:
Responsive feeding is commonly understood to be the reciprocal and nurturing feeding experiences that encourage a child to eat autonomously and in response to physiological and developmental needs. Through responsive feeding children benefit from enhanced cognitive, emotional, and social development. However, many factors can inhibit or suppress the responsive feeding process. This is a critical component in our assessment of a child's eating difficulties and often expands a family's capacity for understanding and compassion towards themselves and their child.
Family-Based Treatment:
Also known as FBT or The Maudsley approach, this is a manualized method of treatment designed for short-term re-feeding of children and adolescents with restrictive eating disorders. There are 3 phases of this treatment:
Phase 1: Nutrition rehabilitation & weight restoration – Where parents/caregivers are plating and supervising all meals and snacks to help the child restore their health. This stage requires parents/caretakers to take full responsibility for re-feeding their child which includes companioning them at all meals and snacks. The goal is to normalize eating amounts and patterns.
Phase 2: A gradual return of control to the adolescent – Once weight restoration has occurred, the adolescent begins to take control of their eating. During this phase parents and providers will continue to assess eating-disordered behaviors. The transition of responsibility from parent to child is dependent on the resumption of normalized eating and the reduction in eating disordered behaviors.
Phase 3: Establishing healthy independence – During this phase, we work individually with the adolescent to help them develop a better relationship with food and their body. This may include work on body image, intuitive eating, functional appreciation for the body, healthy athletic engagement, mind-body resilience, and/or resistance to objectification.
While trained and skilled in the FBT approach, we have found that our clients and families have been best served by incorporating some of the principles of Emotion-Focused Family Therapy and Responsive Feeding when using FBT
Adolescent Focused Therapy:
Adolescent Focused Treatment (AFT) is an approach where the provider is meeting primarily with the adolescent. However, parents are still encouraged to be involved by sharing their observations with their child's treatment team (dietitian, therapist, MD); check-in with their child utilizing EFFT techniques or make sure they have resources for meals/snacks; or they may be encouraged to notice behaviors that support or don't support recovery. The adolescent is a part of the conversation as to how to best utilize support from their caregivers or parents.
Additional Services:
Through our comprehensive assessment process we are often able to discern other issues that interfere with recovery. In these situations, we may recommend the services from another discipline such as an Occupational and Speech Therapist, Movement Therapist, or Neuropsychologist.
For more information contact our intake coordinator at
781-674-1189 ext. 2 or JLocke@cnc360.com