By Nicole Patience MS, RD, LDN, CDCES, CEDRD
While apple picking last week, I overheard a young child ask, "Why are all the reddest apples on the ground?"
Some apples get enjoyed and savored and some get composted. I love this child's reflection. There is no perfection in nature. The cycle of growth and restoration happens regardless of production value or expectations.
Do you ever take stock of the effort to "produce" that red apple in your own life? For example, this could mean the effort required to excel in your job, reach out to a family member, or be present and attentive to a friend. These are the times we work to bring out our best selves. I have learned to appreciate this effort for its simple contribution to being my best self. It hasn't always been that way. I have learned to use mindful practices that help me increase my awareness of the process and to decrease my focus on the outcome, otherwise known as the impact or production value of my effort.
The work of finding your personal values and using that as your guidepost is not always seen or recognized. This is especially true during body image or disordered eating recovery when most of the work is done on the inside where it is less visible to others. You may find that having trusted others behind the scenes to appreciate your hard work is invaluable; a strong support team understands the effort you are making towards restoration so that you can re-align with your values and build a meaningful life. They will help you to focus on being your best self: to feel seen and valued as you are, right now.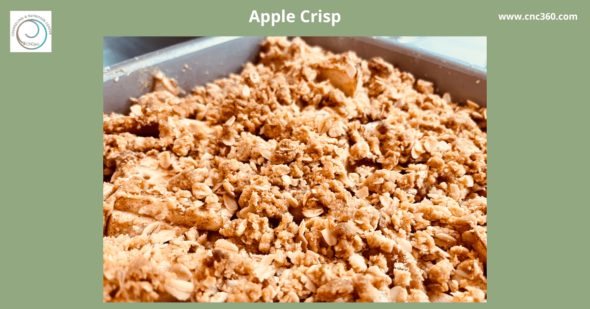 If your recovery work includes diving into a culinary challenge. I have a wonderful apple crisp recipe for you! Just as the tree produced a beautiful red round juicy apple (seemingly without being attached to the endpoint). I hope that you can enjoy the process of making this recipe without being attached to expectations or production value. Enjoy the strength and flexibility that comes with recovery. And find a sense of being rooted into the joy of recovery.
Consider topping the apple crisp with creamy ice cream (sweet) or unsweetened frozen or plain yogurt (tart) to accent the crunchy topping and delicately roasted apples.
Apple Crisp Recipe
Preheat the oven to 375.
Filling Ingredients:
4-6 apples (2-3 pounds), any variety
2 tablespoons flour
2 tablespoons sugar
1 teaspoon cinnamon
3 tablespoons water
Topping Ingredients:
2/3 cup flour
2/3 cup oats (old-fashioned or instant)
1/2 cup white granulated or brown sugar
1/4 teaspoon salt
6 tablespoons butter (cubed)
Directions:
To make the filling, peel, remove the core, and slice apples (1/2 inch thick). Combine 2 tablespoons of flour and sugar, and 1 teaspoon cinnamon, and dust over the apples, mixing to uniformly coat apples. Spray a 9×9 inch pan or deep pie dish with cooking spray or coat lightly with butter. Add 3 tablespoons of water and the apple mixture into the pan.
To make the topping combine the 2/3c flour and oats, 1/2c sugar, ¼ teaspoon salt and 6 tablespoons of cubed butter in a medium bowl. With your fingertips or a fork blend the flour mixture with the butter until a crumbly uniform texture is formed. Crumble this mixture over the apples.
Bake for 45 minutes. The apple crisp is ready when the topping is golden brown, and the apples are fork tender.
Enjoy!