Every Christmas Eve since my husband and I met we have had the same holiday tradition: last minute Christmas shopping at the mall, wrapping presents, and, my favorite part, Christmas eve tacos. It's not your average holiday tradition but it's ours and I look forward to it every year. Since Mexican cuisine is one of my favorites it's only natural that it has made its way into my holiday traditions and each year we make our tacos a little different. Below is last year's slow cooker lentil taco recipe. Enjoy!
What are your favorite holiday traditions?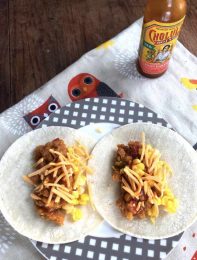 Slow Cooker Lentil Taco Filling:
1 small yellow onion, diced
1 red bell pepper, diced
1 garlic clove, minced
1 teaspoon olive oil
1 cup dry red lentils, rinsed
1 tablespoon chili powder
2 teaspoons ground cumin
½ teaspoon curry powder
1 teaspoon oregano
14 ounces vegetable broth (beef or chicken broth can be substituted) plus an additional 5-6 oz.
1 cup salsa of choice (I like salsa verde)
 14 ounce can of corn
your favorite taco fixings (tortilla shells, shredded cheddar cheese, sour cream, chopped tomatoes, olives, guacamole etc)
Put everything in the crock pot (except for corn and taco fixings) and cook on low for 9 hours, stirring occasionally and adding broth or water as needed. When done, stir in canned corn.
Assemble tacos with your favorite fixings and enjoy!
Recipe notes:
Feel free to adjust spices to taste