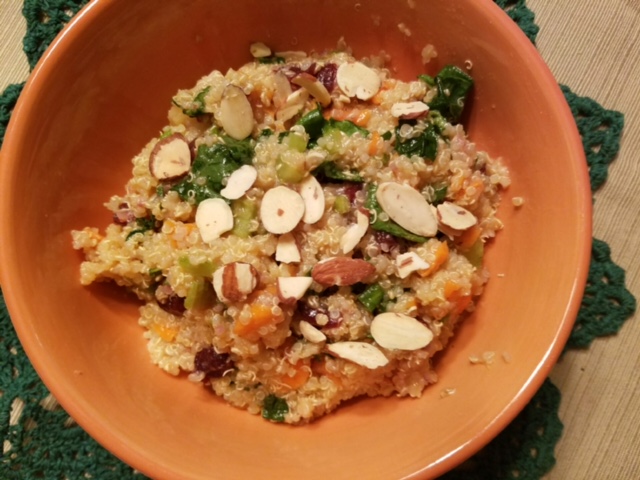 Quinoa Salad
by Jennifer Locke RD, LDN
A few years ago I created this recipe for a "National Nutrition Month" event.  Although National Nutrition Month falls in March, this recipe is a go-to recipe of mine in the summer months because of the ease of preparation when it can feel too hot to cook.  The base of this recipe is quinoa which many people know as a whole grain.  What many don't know is that quinoa is a seed (yes seed!) that presents itself as a grain and is a good source of iron, zinc, folate and magnesium.  The recipe is also adaptable depending on the fruits, veggies, and nuts that you have on hand.  Enjoy!
INGREDIENTS:
1 cup quinoa
2 cups broth (vegetable or chicken)
1 cup diced pineapple
¼ cup golden raisins
1/3 cup slivered almonds
4 stalks celery – diced
1 cup matchstick carrots (or shredded if desired)
2 cups pre-washed baby spinach
2 tbsp finely diced green onion
2 tbsp olive oil
3 tbsp rice vinegar
1 tbsp maple syrup
Salt and pepper to taste (optional)
DIRECTIONS:
In a medium saucepan, heat broth to a boil – add quinoa and stir – reduce heat to a simmer and cover – cook for 10-15 minutes or until water is absorbed/ quinoa is tender.  Remove from heat when finished cooking.

While quinoa is cooking whisk together olive oil, rice vinegar, maple syrup and salt/pepper – set aside

Once quinoa is cooled, stir together with olive oil mixture and add pineapple, raisins, almonds, celery, matchstick carrots, green onion, and baby spinach. Enjoy!
 This side dish serves 4-6
Do you use exchanges? ~¾ cup of this salad = 1 starch and 1 fruit/ vegetable
Just add a side of chicken, fish, meat or vegetable protein to complete this meal!
Potential Substitutions and Add-ins:
Craisins, dried currants, diced pear, pecans, walnuts, kale, sundried tomatoes, feta or goat cheese, shredded purple cabbage, beans.  No quinoa on hand?  No problem!  Feel free to use rice or couscous instead.