by Amy Aubertin, MS,RDN,LDN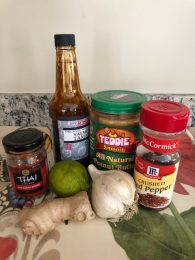 My friend, Susannah, always serves yummy and simple recipes when we get together.  I inevitably ask for the recipe and make it at home. This has been a standby at my house, since she first served it several years ago. This sauce is great over any stir-fry, ramen, and I like it on toast.
½ c. natural peanut butter
¼ c. vegetable broth
3 T. soy sauce
2 T. brown sugar
1.5 T. minced ginger
1 T. lime juice
1 t. minced garlic
1 t. chili flakes (or to taste)
1 t. red curry flakes
1 minced shallot
Mix in a food processor. Adjust as you like.