by Nicole Patience MS, RD, LDN, CDE, CEDRD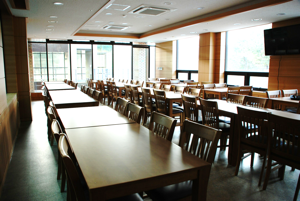 Dining halls can serve as gathering meccas on campus.  You can view them as an opportunity to nourish your campus life, both through social connection and nutrition.  In a previous blog we explored where to start when entering a dining hall with a special diet need or an altered relationship with food.  Once you have been on campus and have figured out which foods work for you, the next challenge is finding a balance with these foods.
Students have a lot going on, and often meals get sandwiched between other priorities.  I recommend that meals be approached with intention (what do I want from this experience) and attention (what am I putting in my body, how does it taste, and how much will satisfy me). 
The time it takes for you to ask yourself a few quick and simple questions can lead to an much more satisfying and present experience.
Stop before entering the dining hall, take a few moments to scan your body.
What's your state of mind – Excited? Lonely? Overwhelmed? Exhausted? Celebratory?
Where do you feel hungry in your body, such as the mouth or stomach?
What are you hungry for?
How much time do you have to eat?
Will you eat with someone, or are you on your own? Embrace either senario.
Awareness can bring intention for self-care.  Walk around to explore all the options.  Does something jump out at you?  Choose foods that look and smell appealing and will fuel you for the next few hours.
With so many options, how do you know what to choose?  What if something looks really good and you are disappointed to realize you're already full?  Good news here.  Dining hall's work on menu rotations, a 2 to 6 week cycle, where all menu items cycle back around.  This can be helpful to offer peace of mind that you will see a delicious menu item again. The food will be back again in just a few weeks.
Allow the dining hall experience work for you by embracing the positives, bringing awareness and creativity, and keeping an open mind to what you discover.