by Jennifer Locke, RD, LDN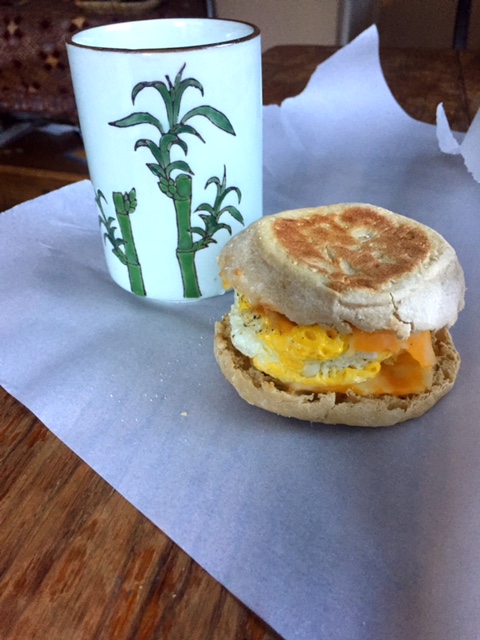 In my experience, breakfast can be a challenging meal for clients with and without disordered eating.  I know many people who have 1 or 2 "go-to" breakfasts and others who skip breakfast all together.  As a dietitian, I am always challenging my clients to add variety for two reasons; there is no perfect food that provides us with all the nutrients that we need and what happens when you run out of one of your ingredients for your go-to breakfast? 
For the person without disordered eating it might mean having frozen waffles instead of your favorite cereal, but for the person struggling with eating issues this might be an open door for eating disorder behaviors.  My clients often insist that they never run out of said go-to breakfast ingredients.  However, there will reach a time when breakfast (or any meal for that matter) might throw you a curve ball (you're at a friend's house, you're sick, someone ate the last ____ in the house) and you need to be prepared for those unexpected situations.  Practicing this type of flexibility in the moment is not an easy task if you struggle with an eating disorder.  However, there are rewards to be had.  If you diversify meals on a regular basis, you will get an increased variety of nutrients and will be more prepared to find a meal spontaneously when needed. Flexibility with eating encourages the kind of flexibility in thinking that leads to recovery from an eating disorder.
Below I have 5 different ideas for breakfast that are both well-rounded and easy to prepare. We at CNC360 recommended eating your meals intuitively and switching up the ingredients to best satisfy your taste and appetite.
Easy Egg sandwich: egg, English muffin, 1 slice of cheese of choice, veggies of choice. Optional ingredients: ham, bacon or veggie sausage, avocado, hummus

Spray ceramic mug with nonstick cooking spray. Crack egg into mug and stir with fork to break yolk.  Add salt and pepper if desired.  Cover with damp paper towel and microwave on high for a minute.  If there is still liquid left in the cup microwave for another 15-30 seconds (my microwave takes 1 minute 30 seconds).  While egg is microwaving, toast English muffin.  Once toasted, top with egg, cheese, veggies, and other toppings of choice

Yogurt parfait: 6 oz. container of yogurt, ¼ cup granola, 1 cup berries (or diced fruit of choice), 1-2 tbs nuts or seeds – optional: top with honey or maple syrup

Assemble above ingredients and enjoy!

Pumpkin overnight oats: ½ cup rolled oats, 1/4 cup pumpkin puree, ¼ cup vanilla yogurt, ½ cup milk of choice, ¼ tsp pumpkin pie spice, 1-2 tbs maple syrup, 1 tbs walnuts or pecans, optional: craisins

Mix ingredients in mason jar the evening beforehand. Refrigerate overnight and enjoy (either hot or cold) the next morning

Banana nut bread oatmeal: ½ cup rolled oats, 1 cup milk or choice, ¼ tsp cinnamon, 1 tbs maple syrup, 1 tbs walnuts, 1 banana – sliced

Mix above ingredients in a bowl and microwave on high for 1 ½ -2 minutes or until desired consistency – enjoy!

I promise it's easy French toast: 2 slices bread, 1 egg, splash milk, ¼ tsp cinnamon, ¼ tsp vanilla extract

Mix egg, milk, cinnamon, and vanilla. Soak bread in egg mixture and heat skillet pan to medium.  Use butter or cooking spray on the pan to ensure that your French toast doesn't stick.  Place soaked bread on heated skillet and cook for~3-4 minutes per side until browned.  Top with toppings of choice: butter, maple syrup, Nutella, berries – get creative!

Easy Caprese Breakfast Burrito: 1 egg, wrap of choice, fresh mozzarella slices, sliced tomato, fresh baby spinach, optional: salt and pepper

microwave egg as above or cook in skillet pan if desired. Take wrap of choice, add egg, sliced tomato, small handful of fresh baby spinach, and 2-3 slices fresh mozzarella and optional salt and pepper to taste.  Roll up and enjoy!