by Jennifer Locke, RD, LDN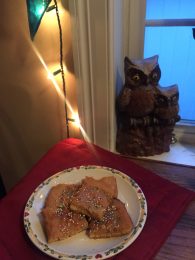 The smell of baking cookies always brings me right back to memories of baking with my mom for the holidays.  We always baked and decorated the traditional sugar cookies and gingerbread cookies, but today I will be sharing a more recent holiday baking tradition:  Lebkuchen cookies.  About seven years ago a dear friend of mine shared her family recipe for lebkuchen cookies with me and I have been making them for the holiday season every year since then.  Lebkuchen cookies are a traditional German Christmas cookie that remind me of an extra spicy gingerbread cookie with sweet citrus.  I still have the paper that she hand-wrote the recipe on and each time I bake them I am reminded of the first time we made them together in my tiny basement apartment in central Massachusetts. 
Now I'm passing on this special recipe to you and I hope that these cookies bring you as much warmth and joy as they bring me each holiday season.  Enjoy!
Ingredients:
¼ lb butter
1 cup brown sugar
1 cup white sugar
½ cup honey
2 eggs
2 ½ tsp baking powder
2 ½ cups flour
1 grated lemon rind
1 grated orange rind
1 tsp cinnamon
1 tsp ginger
1 tsp ground cloves
¼ tsp salt
Glaze: 1 cup powdered sugar, 2-3 tbsp lemon juice, sprinkles of choice
Directions:
Preheat the oven to 350 degrees.  Grease 9×13" pan with butter or cooking spray; set aside
In a large bowl, beat the eggs, brown sugar, sugar, and honey until smooth. Combine the flour, baking powder, cinnamon, cloves, ginger, lemon rind, and orange rind; stir into the egg mixture. 
Evenly spread batter with fingers into prepared pan
Bake in preheated oven for about 15-18 minutes or until toothpick inserted in center comes out clean.
To make the glaze: combine powdered sugar and 2-3 Tbsp lemon juice (for desired consistency).  While cookies are still warm, brush with glaze and top immediately with sprinkles of choice
Enjoy these cookies on their own or with a nice warm cup of spiced cider or hot cocoa!