Growing up, my parents worked different shifts so my father was often the one in charge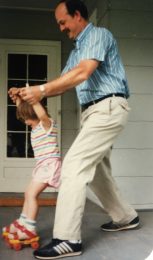 of making dinner for my siblings and I. We had a few "dad classics" such as "daddy's famous garbage" (a story for another day) and "eggs a la goldenrod." It was a meal staple in my home growing up, whether it was for weekend breakfasts or for breakfast for dinner. When I think of this meal I am brought right back to those nights with my dad. My grandma grew up in Iowa where this was considered the midwestern version of sausage gravy and biscuits, but because it was something that we had often, I had no idea that it wasn't a 'normal' meal for everyone else in New England. I'm forever thankful that I had this unique experience where I got to explore different foods from other parts of the country without even realizing it. Now I share this midwestern staple with you and I hope that you enjoy this dish as much as I do.
Eggs a la Goldenrod
Ingredients:
 6hard-boiled eggs
 2 cups milk of choice
 4 tablespoons butter
 4 tablespoons flour
 3 ⁄ 4 teaspoon salt
 1 ⁄ 4 teaspoon pepper
 8 slices bread of choice, toasted (we always used white bread)
Directions:
Using a large skillet pan heat over medium heat. Add butter to pan.
Once butter is melted add flour and stir until the mixture is smooth and well combined.
Add milk very slowly, stirring with a whisk as you add.
Turn heat down to low. Continue to stir with whisk and cook until the mixture starts to thicken.
Add salt and pepper to mixture and set aside (adjust salt and pepper to taste).
Peel hard boiled eggs and remove the yolks from the eggs.
Chop the whites of the eggs into small pieces and add them to the white sauce.
Toast bread and slice it diagonally.
Arrange the bread slices on a plate and pour the sauce over the toast.
Take a grater and grate the egg yolks over the sauce.
Serve warm.