by Nicole Patience MS, RD, LDN, CDE, CEDRD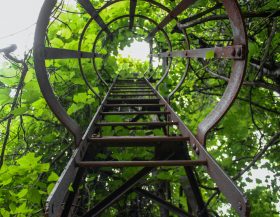 Does a shift towards recovery feel out of reach? Does questioning your routine feel disloyal to what you have worked towards?
Sometimes the known challenges and hardships feel safer than the unknown.
Two months ago, I would have said you were crazy if you asked me to surrender my life as I knew it. What a crazy notion to stop showing up at work, cease all social meetups, and minimize grocery shopping to an online order or grab 'n go frantic experience! I would have said I couldn't handle the major changes. It would have meant giving up too much of who I am and what I need, and besides, I liked my life back then.
But as COVID-19 got closer and closer to home, it became focal in all our lives. We adapted quickly to new norms and stopped going out unless absolutely necessary. We started to celebrate birthdays and even weddings via video conference. We experienced virtual work meetings, medical appointments, book clubs or happy hours online. We could feel the imminent need to change, and while it meant giving up the known, it also meant safety and hope for a healthier future. This has not felt normal, but it has made sense.
Often when the conversation about higher level of care comes up with clients, legitimate barriers lead to day-treatment programs or residential facilities feeling out of reach. Clients plead to wait until they can finish the semester, the performance in a play or athletic competition, a scheduled vacation, or the presentation of a big project at work that may lead to a promotion. These things matter. No one wants to give them up. The thought of abandoning them may feel like a deep loss of something that is deeply important. And indeed, these are the exactly the things and events that matter in life that are sidelined by the eating disorder. In the end, the faster to treatment, the fewer the losses because of the eating disorder. 
The jolt of letting go amidst the pandemic has felt big. We all struggle to make sense of the disparaging news of illness and loss, disappointments of lost connections, celebrations, travel, and for many a newfound deep financial insecurity. Yet we all have made many changes to adapt. If you are having a higher level of care conversation with your dietitian or psychotherapist, I encourage you to approach it with an open mind.
You need courage to step up to a residential, partial hospitalization, or an intensive outpatient program. Your team, including your dietitian, psychotherapist, and PCP all work together to support you on this decision. Consider us your expert pandemic response team. If you are working with someone at CNC, you have the advantage of decades of experience behind the recommendation for level of care. We know what this disorder can take from you, and we know how difficult letting go of life as you know it can be.
It is especially challenging to make a change when your whole world feels disrupted by the pandemic and your eating disorder is something you can still hold onto with some predictability.  One thing this experience has shown me is that we can do things differently if we need to. If it's time for you to step up your level of care, I encourage you to draw on what you experienced in the last month, to trust that you can manage to make it work with your life. Your outpatient clinicians will stay in contact at all levels of care and welcome you back whenever you are ready. 
The decision is tough and yet giving yourself permission to receive more support for your recovery will offer greater comfort and peace; it can offer greater safety and deeper connections to your own values, body, and people around you.